I was born in Shillong, Assam, in 1937, and had a magical childhood. growing up in a thatched bungalow with wide verandas, and a view of the Himalayas in the far distance. My first school was Pinemount School in Shillong where apparently I told my teacher I was going to write books one day. All I can remember clearly of my early schooling were the hula monkeys whooping all day up in the trees surrounding the playground.

Then at aged nine, my family moved to Guernsey from India (my mother's family are Channel Islanders). Immediately postwar, in the grip of the severe winter of 1947, the island was a cultural and physical shock. Scars of the German occupation were everywhere, rationing was still a part of life. After the freedom and colour of my childhood, Guernsey seemed at first a cheerless place, particularly as my parents returned to India for a final two years leaving me and my brother behind with an aunt.

I was educated at the Guernsey Ladies College and from there, with the secret aim of going on stage, went to St Anne's College, Oxford where I read English. Freedom at last! was my main feeling as I struggled alone by boat and train to Oxford for my first term. The Oxford theatre world was a heady place then: I worked with Dudley Moore, Ken Loach, Anthony Page, Don Taylor and many others later to become famous. But though I loved it all, I began to realize I wanted to write books, not act.

I spent a wonderful postgraduate year in Rome on an Italian Government Scholarship sponsored by the British Council, where I learned Italian and made life-long friends, as well as writing my first novel, Abraham's Legacy, which was published in 1963 after my return to London. I then worked as a script and research assistant for BBC TV, mainly with Paul Johnstone on Chronicle, before taking up a post as Senior Tutor at Padworth Sixth Form College, near Reading, where I taught English and made some more lifelong friends. My pupils encouraged me to write for teenagers; Please Don't Go was the result, the first of many novels published by Bodley Head.

I gave up full time teaching when I married and had 3 lovely daughters, but I kept my writing going somehow (I remember correcting proofs standing up at a tall chest of drawers, to keep the pages away from clutching fingers). Nowadays I write full time, spending as many hours as I can at my computer. I gave up writing my books in longhand some years ago, but if I have something tricky or crucial to write, out comes my fountain pen.

BOOK LIST
Latest Book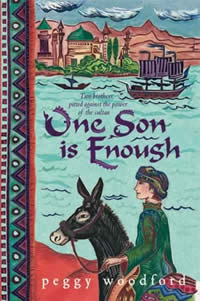 One Son is Enough
Walker Books, August 2006
ISBN 978-1844281459

A historical novel for older children (10+) telling the story of twin nomad boys in 18c Turkey separated by the devshirme (youth-levy). One is taken as a slave to Topkapi Palace to serve the sultan, the other manages, after a long eventful journey, many dangers and ingenious subterfuges, to free him.
Endorsed by Amnesty International UK as "contributing to a better understanding of human rights and the values that underpin them".
---
New Edition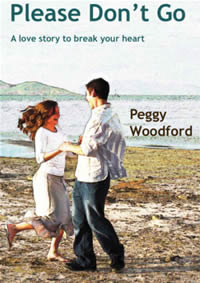 Please Don't Go
Back to Front Press, January 2007
ISBN 1-904529-32-1

This perennially popular novel for teenagers is re-issued with a new cover and some textual improvements.
EMAIL FROM A GRATEFUL READER
Subject: Thank You for Please Don't Go
Date: Monday, June 4, 2007 22:38
From: Donna C. Arnds
To: <woodford-dsl.pipex.com>
I just finished reading Please Don't Go for probably the fifth time. It is one of my all time favorite books, next to To Kill a Mockingbird … Please Don't Go affected me at a very deep level, and I am so utterly grateful that you wrote it.
I first read this book when I was about 16, about a year after my brother died. It helped me immensely through the period of grief that surrounds a tragic, unexpected death. Now, at 39, I see so much of myself in Mary: her passions, her ability to read personalities and move among difficult types; her dislikes; her adaptability to her circumstances: her strong sense of self and her convictions... I understand Mary Meredith very well. And Joël reminds me a great deal of my elder son, James. A boy with a pure heart.
I should wrap this up, but I just wanted to let you know how much this book has meant to me. We were watching "Matilda," the film based on Roald Dahl's book of the same name. My favorite line in the film takes place when Matilda begins her daily visits to the library and that discovers that through the stories she reads, she is not alone. It was as if the books were sent out like ships into the sea. Please Don't Go was, for me, a ship that took me away hurting, and brought me back home, whole.
Thank you….so very much.
Donna Christine Arnds
Pasadena, CALIFORNIA
---
BOOKS FOR ADULTS:
Fiction

Abraham's Legacy

Cupid's Tears

Jane's Story

On the Night
Non-Fiction

Mozart, His Life and Times

Schubert, His Life and Times

Rise of the Raj, A History of the growth of Colonialism in British India, 1600-1859.
BOOKS FOR TEENAGERS
Novels

Please Don't Go

Backwater War

See You Tomorrow

The Girl with a Voice

Love Me, Love Rome

Monster in our Midst

Out of the Sun

Blood and Mortar
Short Stories

The Real Thing


You Can't Keep out the Darkness


Misfits
---